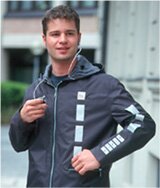 According to Venture Development Corporation (VDC), the worldwide market for wearable computers is set to grow from over USD70 million in value in 2001 to USD563 million by 2006.
And that is a conservative estimate. VCD lead analyst, Tim Shea, said that the market could breach the USD1 billion mark in four years' time if improvements are made in consumer-based wearable products, including viable "smart fabric" technology. "Survey feedback provided a compelling possibility of near-term adoption, assuming that product offerings can meet use requirements for wearability/comfort, hands-free operation and application-specific support," said Shea.
Although wearable computers are currently mainly used in sectors such as distribution/warehousing, field services and transportation, VDC said that the technology will be shortly put to wider uses.
It would appear that one of the most obvious of these is for the tracking of wearers, particularly children. "Tagging" kids with microchips has already reportedly started to happen in the UK following the recent child killings there. Another population application, said VDC, will be bio-monitoring, which is the collection of information for medical purposes.
VDC also said that wearable computers providing PC-centric functions such as spreadsheets and word processing will experience "significant growth," but only as long as they are designed to serve as broad a market base as possible.
Other factors in the growth of such computers will be the fall in prices for core components, and advancements in speech recognition technology and head-worn displays. In addition, VDC said it expected markets such as education, healthcare and hospitality to become greater users of the technology.
Another factor in this predicted growth will be the emergence of interactive textiles or "smart fabric", said VDC. This would allow computer devices to become part of pieces of clothing. "In the near future, these smart fabrics products will utilise MEMS (Micro Electromechanical Systems) based technology to integrate a vast array of sensors into everyday products," said the report.
Chipmaker Infineon, for instance, has recently created a technology that allows circuitry to be woven into fabrics, which can then be washed or dry-cleaned. The company developed a jacket with an embedded MP3 player and said that ID tags could be built into clothes within the next two years.